Coolest New Water Bottle

07/05/2016 03:19PM, Published by Nancy Babin, Categories:
---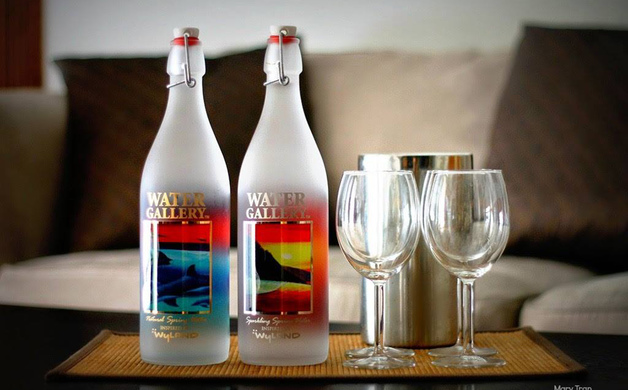 ---
Coolest New Water Bottle
The Water Gallery
A southern California-based business by the name of Water Gallery is showcasing original art on premium glass bottles.  Founders Kenny Laskan and his wife Leah combined their passions for eco-awareness and advocating better environmental choices to create their business. The core philosophy at Water gallery is to "love, respect, and protect the natural world around us and its oceans."

 The first featured artist for Water Gallery is Wyland, a beloved artist who reflects his talent and knowledge of the sea. Wyland is known for painting life-sized whale murals on buildings around the world. The Emerald Coast is lucky to be home to one of his masterpieces. The Legendary 
 Marina in Destin reflects a timeless portrayal of the ocean and the larger-than-life whales he is famously known for painting.  The Water Gallery allows customers to capture a piece of Wyland's work on an eye-catching handmade water bottle. Wyland-inspired bottles feature anything from Orcas, mermaids, turtles, and sharks that will impress all ages. When you purchase a Wyland-inspired bottle, 3% of sales are donated to the Wyland Foundation, a 501(c)(3) non-profit organization dedicated to promoting, protecting, and preserving the world's oceans, waterways, and marine life.

 The detailed production of each bottle is what makes the product unique and impossible to find elsewhere. The Water Gallery aims to offer a high quality made-in-America product to go against the status quo of products that are so often made in foreign factories. Although the Bormioli Focco premium glass bottles are made in Italy, it is because no other company in America makes glass swing-top bottles of this caliber.  However, the detailed process of prepping the bottles and applying the art is completely done by hand in the US.  Each art decal is the focal point of the bottle because of the vibrant almost three-dimensional effect. This occurs because each piece of art is baked to a decal that is attached onto the back of the bottle. It looks as if the artwork is suspended in the water itself! 
 Water Gallery is innovative, artistic, and outstanding in quality production. Not only does the small company feature Wyland's art, but Guy Harvey and Drew Brophy are two other amazingly talented featured artists. The company and artists are bonded by a profound love for the world's oceans and a respect for Mother Earth. 

Locally these pieces of usable art can be seen and purchased at Destin Glass, Footprints in Miramare Beach, Retail Therapy in both Miramar Beach and Santa Rosa Beach, Marty Campbell Gallery in Pensacola and Salt Sea Coastal Outfitters in Orange Beach, AL.
Cool Factors: Hand made swing-top glass bottles, reusable and collectable bottles, the company promotes smart environmental choices, reflects a deep passion for the ocean, eye-catching artwork is featured on each bottle.

---
Subscribe to On the Coast Magazine's Free Newsletter for regular updates!
---
---
Wyland Wyland Gallery The Water Gallery Bormioli Focco Drew Brophy Kenny Laskan Leah Laskan Entertain with class Glassware Artist glass
---