Ashley Mc Leod

04/30/2013 06:31PM ● Published by Nancy Babin
Ashley McLeod
FFA Leadership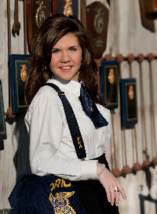 FFA, formerly known as Future Farmers of America, is a lead organization of our day that engages young people in exploring their talents in a variety of career fields to promote agricultural education. The organization is divided among local, state and national levels. In 1988, FFA changed its name to The National FFA Organization.
Ashley McLeod is well-known along the Emerald Coast and throughout the state of Florida for her current position as District 1 President, which covers seven counties. Ashley tells us, "As a leader in FFA, I host leadership conferences and travel throughout the state and different parts of the country to be an advocate for agriculture and agricultural education."
Ashley, a senior at Laurel Hill High school, has been involved with FFA since middle school. Growing up on a small cattle farm developed her interest in agriculture but it wasn't until she took an agriculture class in middle school that a passion was sparked.
Within FFA are Career Development and Leadership Events which help students to think, communicate and perform effectively. "These events help prepare you not only for a career in agriculture but for any career field that students go into after they graduate," she explains. Ashley has been competing in prepared public and extemporaneous public speaking since her involvement in FFA back in middle school. "When I was in eighth grade I competed in my first speech contest. You have to win three different levels to go to the state level, and in my first year of competing I advanced to the state level and placed in the top five of the state," said Ashley. Her early success only fueled her passion.
Ashley won the 2012 State Championship in prepared public speaking for Florida, and went off to compete at the national level as a semi finalist. She is also the winner of six different district championships in prepared public speaking. Recently she screened for the Florida FFA State office which will be decided in June of this year. "If I do get elected to State Office in June, I will have to take a year off of college so I can fully devote myself to Florida FFA and agricultural education as an ambassador. If I don't get elected or even after if I do, I plan to attend the University of Florida to major in Agricultural Communications with a minor in Political Science."
Ashley quotes her agriculture teacher, Jerry Gregory, when asked why she is so passionate about agriculture. "Without agriculture you would be naked, hungry and without a home." Her appreciation of the importance of agriculture and what farmers do on a day-to-day basis leads her to feel that it is her job to promote the agricultural industry and the people within it.
Subscribe to On the Coast Magazine's Free Newsletter for regular updates!
Today
,
Today
,
City+School
,
Community
university of florida
ffa
agricultural
laurel hill high school
state championship
jerry gregory
speech
public speaking