Fantasia

04/30/2013 06:27PM ● Published by Nancy Babin
Fantasia McDaniel
Graphic Design/Photography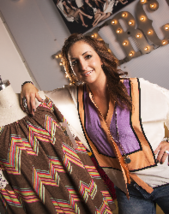 Growing up on the colorful Emerald Coast gave Fantasia much inspiration for art. "I have loved art since I was young. What I love about it is that there are no mistakes. Everything you do is a learning experience and when I realized that, I realized how much fun it was." Fantasia's love for all things art led to her well-known career in graphic design.
"In 2006 during my first year of college, I realized that graphic design was the route I wanted to go, though I originally went to pursue a degree in journalism," explains Fantasia.  Her involvement in a painting class at Pensacola State College is what started her to change her degree path.  "Being able to paint, draw and create even though it didn't have anything to do with graphic design at the time is what changed it for me. I never realized that having so much fun creating art could turn into a career. I wanted to try something new." In her first graphic design class she knew it was the career path she would pursue. She credits her college art teachers for giving her the motivation to pursue her love for graphic design. "I had amazing design teachers who pushed the commercial use of art."
Fantasia describes graphic design as "creating digital artwork for business or commercial use." Creating graphic design requires the ability to take the ordinary day-to-day things and find inspiration in them. She describes inspiration as "the ability to look at one thing and see something else from it. It is creating something new from an old idea. Inspiration can come from anywhere.  It can be as simple as a dream to driving down the road and seeing a semi truck with colorful stripes. You may like the color combination of those stripes and use it on your next project." She uses graphic design in the creation of promotional branding, logos, letterheads, and event flyers, and is most well known for her involvement in the Judith March clothing line.
"Judith March is so much fun. I have been with them since the start of the company." Judith March, as seen recently in the April 2013 issue of Southern Living magazine, is a clothing line that excels in the designing of modern clothes inspired by vintage bohemian styles. It was launched in January 2010, and Fantasia joined their team six months later.  She uses her sense of vintage style to work alongside the fashion designer to put together vintage color combinations, draw layouts for their fabric textiles and to conceptualize modern artwork for t-shirt designs. Her work at Judith March is also featured in their social media and website branding.
On top of her work at Judith March, Fantasia helps local businesses along the Emerald Coast brand their companies by designing logos, email designs and photography.  Some of these local businesses are Pelican Real Estates, Gemesis Expressions Jewelry on the Destin Harbor, Filanthropi Market and local artist Dannica Lowery's past two music albums. "I want to help build companies that are budding in the local community. I want to give them a great image of themselves so it is portrayed to their clients. In other words, I want to help them look big when they may still be small."
When asked why she wants to stay on the Emerald Coast she responds, "I love the area I live in and want to see it flourish. Being able to help local communities is a way to give back."  Fantasia believes that God has been directing her career steps from the beginning and believes He is the ultimate source of her inspiration.
Fantasia's online portfolio www.TasiaMade.com
Facebook at www.Facebook.com/TasiaMade
Judith March website www.JudithMarch.com
Subscribe to On the Coast Magazine's Free Newsletter for regular updates!
Today
,
Today
,
City+School
,
Community
fantasia
judith march
designer
graphics
art
clothing a