Johnathan Spears

04/30/2013 06:18PM ● Published by Nancy Babin
Jonathan Spears
Real Estate Agent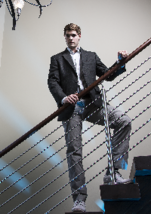 If you ever thought that seasoned age was the key to being successful in the business world, you have not met 21-year-old Jonathan Spears. He is one of the most successful people in real estate along the Emerald Coast.
Jonathan has been in real estate since he was 18 years old. He started college at age 14 and graduated with a bachelor in Business and Finance from Florida State University at 19. "I was blessed to get into the dual enrollment program which gave me the chance to jump-start my career."  He had initially pursued a degree in international business, but as he pursued finance a little more, he changed to business and finance.  Real estate became a natural progression for Jonathan because he felt it has all the core aspects of business.
Today, Jonathan works as a buyer's agent for White Sands Resort Realty, Inc. handling leads and cultivating his own business as a listing agent representing different properties. He specializes in Destin area real estate along the Emerald Coast where he is currently working on a $20 million development.
When asked how he would define his success, Jonathan says, "I love working with people. At the end of the day I am not here to sell anyone anything, but to help people buy. I get joy out of finding people a great deal and getting sellers top dollar for their properties." He has learned a lot through mentors like Frank Rushing and David Connart who have invested their time in him, and he attributes much of his success to them. Jonathan is also involved in BE, Business Empowered. It was through Mel Ponder with BE that Jonathan met David Connart, owner of White Sands Resort Realty, in 2010.
Jonathan finds his inspiration and motivation from his fiancé, Juli, and his parents, Tim and Kellie Spears. "Juli is the most Godly, beautiful, sweet, caring and loving person I have ever met, and my parents have always supported me through the years." Jonathan and Juli are getting married in the fall of 2013.
What makes Jonathan unique is that he gives the glory of his success in the business world to God instead of to himself. "God has purposes for His kingdom in the marketplace and I am a believer that God has His hand in our business. The drive I have comes from His spirit working in my life and keeping doors open for me to progress. I go to Him first before making decisions."
When asked about future dreams and plans, Jonathan says he would like to get into real estate development and international business development. Talking with Jonathan, it is easy to see not only his love for the business and the people he meets daily, but also the love and respect those people have for him. He has no plans to leave the Emerald Coast any time soon. In his own words, "Destin has one of the most beautiful beaches in the world and I am proud to be a citizen here."
Contact Information:
Jonathan Spears
White Sands Resort Realty, Inc
850.974.1761
Jonathan@whitesandsrealty.com
www.JonathanSpears.com

Subscribe to On the Coast Magazine's Free Newsletter for regular updates!
Today
,
Today
,
City+School
,
Community
destin
johnathan spears
white sands resort realty
kellie spears
be
david connart