Kelsey Anna

04/30/2013 06:14PM ● Published by Nancy Babin
Kelsey Anna
Singer/Songwriter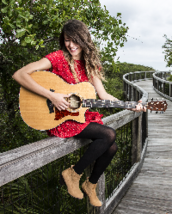 Known for her Americana-Folk sound, Kelsey Anna is a local singer and songwriter on the Emerald Coast. Her songwriting and performing has received recognition and awards such as winner of the 2011 Young Female Panama City X-FACTOR, 2012 Best Female Vocalist Beachcomber Music Award and the 2012 Best Original Song for "Poison" Beachcomber Music Award.
Kelsey has been singing for as long as she can remember. She began performing at her dad's art gallery that was located in Seagrove, Florida. From there at age fifteen she joined up with her sister to start singing at an open mic night at a local wine bar named Ceruleans in Watercolor. "They had an open mic night so we started to go up there to sing and they started booking us to come back and sing professionally."
Her songwriting career came not long after when she moved away from her sister, who she had begun singing with often in a cover band. The extra time in a new territory gave her the opportunity to explore songwriting. "Writing is really what I enjoy doing, and performing what I have written is cool. Writing is such something I am passionate about," she said. "Once you start writing, it becomes a part of you."
Her songwriting style is what she considers Americana-Folk. When performing cover songs, she tends to lean towards the sound of singers such as Dolly Parton and Johnny Cash.
Her passion in songwriting is to write something that other people relate to and understand. "My biggest fear is that I don't want to write music to just serve me. If other people are relating to it and getting something out of it, that's awesome."
In August, Kelsey has plans to move to Nashville, Tennessee. "I am trying to get around a lot of musicians and tailor my writing. I want my sound to be specific." While in Nashville she hopes to start co-writing as well as put more demos out.
She has opened up for people such as the Indigo Girls locally. Most recently she had the opportunity to open up for the daughter of Hank Williams Jr., Holly Williams.
Currently she is in the process of recording for her new album."It's my first full length album that will have musicians backing me. It will be like an 8 to 10 track album." The album will be released in the late fall of 2013.
Subscribe to On the Coast Magazine's Free Newsletter for regular updates!
Today
,
Today
,
City+School
,
Community
kelsey anna
singer
songwriter
beachcomber
watercolor
dolly parton
johnny cash
indigo girls
hank williams jr
xfactor