Ben White

04/30/2013 06:08PM ● Published by Nancy Babin
Ben White 
Producer/Film Maker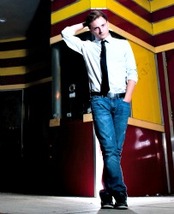 You are probably familiar with the Crestview High Lip Dub 2012 video that swarmed the internet and YouTube last fall, but let's take a closer look at man behind the camera, producer and film maker Ben White.
Ben brought much attention to the Emerald Coast and Crestview High School after the premiere of the Crestview High Lip Dub video that received 20,000 views the first night it was posted. It was featured on the Elvis Duran morning show, has been referred to as "epic" and has become a legacy to the city of Crestview. To this day, the video has received over 200,000 views.
After watching the video you would be surprised to learn that it was rehearsed for only a month with the singers alone; the rest of the school never rehearsed for the filming. It was a continuous shot that was filmed only once, so what you see in the video is exactly what happened. "The video came about because the leadership organization wanted to promote the school.  Our leadership teacher, Mrs. Sanders, presented the idea to me and asked if I would film it. We pitched the idea to the principle, Mr. Jones, and before we could finish the conversation he was on board," explains Ben.
 "The video is not so much hype anymore, but more of an example. People from around the country have emailed me asking how I did it because they want to do the same at their school," says Ben. "Without the leadership class it wouldn't have happened. I am really thankful for the people involved."
At only 18 years of age, Ben has been seriously pursuing film making and producing for two years. He has self-taught himself everything concerning film making up to this point. His career started as a hobby producing and filming short videos and posting them to YouTube. He is currently a film student at the University of West Florida in Pensacola. "I am in it for the thrill of it. I really love what I do. There are a lot of people in it to get recognition, but I am in it purely for the love of what it is."
His most current video, "Dance away MS," is a video dedicated to bringing awareness of Multiple Sclerosis. "My sister was diagnosed about a year ago with MS," he explains.  He posted the video at the end of April, and within the first week it had over 2,000 views worldwide. The video features people from Florida, Idaho, The United Kingdom and Afghanistan "dancing away MS." It has been featured on 2day FM in Australia and has received recognition from the National MS Society. "My sister's diagnosis motivates me to become a success because she is going to need me at some point, whether it is now or when she is sixty when the disease progresses, though I hope there is a cure by then."
 "There are a lot of stories that aren't told and could be told through movies. They have such an impact in our culture. That's why I do it."
TO catch a glimpse of what  Ben is up to check out www.youtube.com/bythebeach11
Subscribe to On the Coast Magazine's Free Newsletter for regular updates!
Today
,
Today
,
City+School
,
Community
ben white
film
fsu
creastview
ms
ekvis duran
ellen degeneres
film maker