On Their Way

04/30/2013 05:04PM ● Published by Nancy Babin
Introducing extraordinarily talented young professionals.
Ben White 
Producer/Film Maker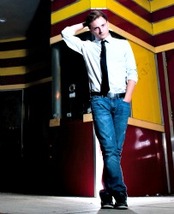 You are probably familiar with the Crestview High Lip Dub 2012 video that swarmed the internet and YouTube last fall, but let's take a closer look at man behind the camera, producer and film maker Ben White.
Ben brought much attention to the Emerald Coast and Crestview High School after the premiere of the Crestview High Lip Dub video that received 20,000 views the first night it was posted. It was featured on the Elvis Duran morning show, has been referred to as "epic" and has become a legacy to the city of Crestview. To this day, the video has received over 200,000 views.
After watching the video you would be surprised to learn that it was rehearsed for only a month with the singers alone; the rest of the school never rehearsed for the filming. It was a continuous shot that was filmed only once, so what you see in the video is exactly what happened. "The video came about because the leadership organization wanted to promote the school.  Our leadership teacher, Mrs. Sanders, presented the idea to me and asked if I would film it. We pitched the idea to the principle, Mr. Jones, and before we could finish the conversation he was on board," explains Ben.
 "The video is not so much hype anymore, but more of an example. People from around the country have emailed me asking how I did it because they want to do the same at their school," says Ben. "Without the leadership class it wouldn't have happened. I am really thankful for the people involved."
At only 18 years of age, Ben has been seriously pursuing film making and producing for two years. He has self-taught himself everything concerning film making up to this point. His career started as a hobby producing and filming short videos and posting them to YouTube. He is currently a film student at the University of West Florida in Pensacola. "I am in it for the thrill of it. I really love what I do. There are a lot of people in it to get recognition, but I am in it purely for the love of what it is."
His most current video, "Dance away MS," is a video dedicated to bringing awareness of Multiple Sclerosis. "My sister was diagnosed about a year ago with MS," he explains.  He posted the video at the end of April, and within the first week it had over 2,000 views worldwide. The video features people from Florida, Idaho, The United Kingdom and Afghanistan "dancing away MS." It has been featured on 2day FM in Australia and has received recognition from the National MS Society. "My sister's diagnosis motivates me to become a success because she is going to need me at some point, whether it is now or when she is sixty when the disease progresses, though I hope there is a cure by then."
 "There are a lot of stories that aren't told and could be told through movies. They have such an impact in our culture. That's why I do it."
TO catch a glimpse of what  Ben is up to check out www.youtube.com/bythebeach11


Kelsey Anna
Singer/Songwriter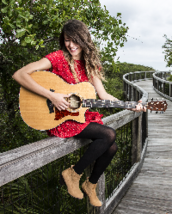 Known for her Americana-Folk sound, Kelsey Anna is a local singer and songwriter on the Emerald Coast. Her songwriting and performing has received recognition and awards such as winner of the 2011 Young Female Panama City X-FACTOR, 2012 Best Female Vocalist Beachcomber Music Award and the 2012 Best Original Song for "Poison" Beachcomber Music Award.
Kelsey has been singing for as long as she can remember. She began performing at her dad's art gallery that was located in Seagrove, Florida. From there at age fifteen she joined up with her sister to start singing at an open mic night at a local wine bar named Ceruleans in Watercolor. "They had an open mic night so we started to go up there to sing and they started booking us to come back and sing professionally."
Her songwriting career came not long after when she moved away from her sister, who she had begun singing with often in a cover band. The extra time in a new territory gave her the opportunity to explore songwriting. "Writing is really what I enjoy doing, and performing what I have written is cool. Writing is such something I am passionate about," she said. "Once you start writing, it becomes a part of you."
Her songwriting style is what she considers Americana-Folk. When performing cover songs, she tends to lean towards the sound of singers such as Dolly Parton and Johnny Cash.
Her passion in songwriting is to write something that other people relate to and understand. "My biggest fear is that I don't want to write music to just serve me. If other people are relating to it and getting something out of it, that's awesome."
In August, Kelsey has plans to move to Nashville, Tennessee. "I am trying to get around a lot of musicians and tailor my writing. I want my sound to be specific." While in Nashville she hopes to start co-writing as well as put more demos out.
She has opened up for people such as the Indigo Girls locally. Most recently she had the opportunity to open up for the daughter of Hank Williams Jr., Holly Williams.
Currently she is in the process of recording for her new album."It's my first full length album that will have musicians backing me. It will be like an 8 to 10 track album." The album will be released in the late fall of 2013.
Jonathan Spears
Real Estate Agent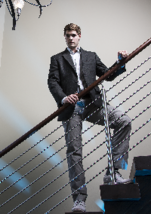 If you ever thought that seasoned age was the key to being successful in the business world, you have not met 21-year-old Jonathan Spears. He is one of the most successful people in real estate along the Emerald Coast.
Jonathan has been in real estate since he was 18 years old. He started college at age 14 and graduated with a bachelor in Business and Finance from Florida State University at 19. "I was blessed to get into the dual enrollment program which gave me the chance to jump-start my career."  He had initially pursued a degree in international business, but as he pursued finance a little more, he changed to business and finance.  Real estate became a natural progression for Jonathan because he felt it has all the core aspects of business.
Today, Jonathan works as a buyer's agent for White Sands Resort Realty, Inc. handling leads and cultivating his own business as a listing agent representing different properties. He specializes in Destin area real estate along the Emerald Coast where he is currently working on a $20 million development.
When asked how he would define his success, Jonathan says, "I love working with people. At the end of the day I am not here to sell anyone anything, but to help people buy. I get joy out of finding people a great deal and getting sellers top dollar for their properties." He has learned a lot through mentors like Frank Rushing and David Connart who have invested their time in him, and he attributes much of his success to them. Jonathan is also involved in BE, Business Empowered. It was through Mel Ponder with BE that Jonathan met David Connart, owner of White Sands Resort Realty, in 2010.
Jonathan finds his inspiration and motivation from his fiancé, Juli, and his parents, Tim and Kellie Spears. "Juli is the most Godly, beautiful, sweet, caring and loving person I have ever met, and my parents have always supported me through the years." Jonathan and Juli are getting married in the fall of 2013.
What makes Jonathan unique is that he gives the glory of his success in the business world to God instead of to himself. "God has purposes for His kingdom in the marketplace and I am a believer that God has His hand in our business. The drive I have comes from His spirit working in my life and keeping doors open for me to progress. I go to Him first before making decisions."
When asked about future dreams and plans, Jonathan says he would like to get into real estate development and international business development. Talking with Jonathan, it is easy to see not only his love for the business and the people he meets daily, but also the love and respect those people have for him. He has no plans to leave the Emerald Coast any time soon. In his own words, "Destin has one of the most beautiful beaches in the world and I am proud to be a citizen here."
Contact Information:
Jonathan Spears
White Sands Resort Realty, Inc
850.974.1761
Jonathan@whitesandsrealty.com
www.JonathanSpears.com 
Henry Connart
Kite Boarding
Henry Connart is a 16-year-old professional kite boarder from the Emerald Coast. His career in kite boarding began eight years ago when he was only eight years old. "My dad had seen people kite boarding on the island and asked me if I wanted to try." His dad went out and purchased himself and Henry each a kite. The rest is history.
Being so young in the sport presented a few challenges. "I started when I weighed only fifty pounds so it was hard to find a board and kite that would fit me," he says. Henry proved early on that obstacles were not going to stop him from pursuing what was quickly becoming a lifestyle sport to him.
A few years after he got on a board, Henry competed in his first race. He explains, "It was a hobby until I did my first race when I was 10 or 11 and won against some pros. I realized I wanted to take it up to the next level."  He began preparing himself to compete which seemed like a dream at the time. "I started working out and putting on a little bit of muscle so it was easier to do tricks. I felt like I was ready to start competing." He began competing seriously in 2012.
The sport has taken him all around the nation. "The coolest place I have been was to Maui, Hawaii with my dad this past year for the Virgin Kite Jam." The Virgin Kite Jam is an event that brings together amateur and professional kite boarders for a week-long training and competition. "It was like a camp with pro and amateur riders. The pros give you tips. They have little contests each day and you can win prizes." When he was in Maui he won the award for top amateur rider under the age of 16.
Henry refers to kite boarding as both a mental and physical sport. "For the racing side of it you need a lot of endurance and leg strength. For the free style side you need a lot of upper body strength and flexibility. For the wave riding side you need all of it."
Henry competes on average two times a year. Between competitions he spends his time training by watching videos of other kite boarders and learning how to accomplish tricks they perform. When he is not competing or training he is homeschooled and spends time with his friends kite boarding. "Homeschooling gives me that chance to ride any chance I get. I am actually getting my friends into kite boarding so when it is windy we all go out."
He is currently training for the Triple-S Open in Cape Hatteras, North Carolina at the end of May. The Triple-S Open is an amateur competition and the winner gets to compete in the Triple-S competition at the beginning of June. The competition is only open to 32 invited riders.
One of his biggest inspirations is professional kite boarder Damien LeRoy, who has personally spent time training Henry.  When asked what his favorite part of kite boarding is he said, "The freedom about kite boarding is what I love. It's like wakeboarding without a boat and a driver."  By the time he is 18 he plans to get a sponsor and compete in the world tour. When asked what advice he would give to aspiring kite boarders he said, "Be familiar with the kite and know it really well so you have control."
Fantasia McDaniel
Graphic Design/Photography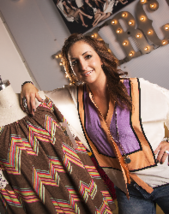 Growing up on the colorful Emerald Coast gave Fantasia much inspiration for art. "I have loved art since I was young. What I love about it is that there are no mistakes. Everything you do is a learning experience and when I realized that, I realized how much fun it was." Fantasia's love for all things art led to her well-known career in graphic design.
"In 2006 during my first year of college, I realized that graphic design was the route I wanted to go, though I originally went to pursue a degree in journalism," explains Fantasia.  Her involvement in a painting class at Pensacola State College is what started her to change her degree path.  "Being able to paint, draw and create even though it didn't have anything to do with graphic design at the time is what changed it for me. I never realized that having so much fun creating art could turn into a career. I wanted to try something new." In her first graphic design class she knew it was the career path she would pursue. She credits her college art teachers for giving her the motivation to pursue her love for graphic design. "I had amazing design teachers who pushed the commercial use of art."
Fantasia describes graphic design as "creating digital artwork for business or commercial use." Creating graphic design requires the ability to take the ordinary day-to-day things and find inspiration in them. She describes inspiration as "the ability to look at one thing and see something else from it. It is creating something new from an old idea. Inspiration can come from anywhere.  It can be as simple as a dream to driving down the road and seeing a semi truck with colorful stripes. You may like the color combination of those stripes and use it on your next project." She uses graphic design in the creation of promotional branding, logos, letterheads, and event flyers, and is most well known for her involvement in the Judith March clothing line.
"Judith March is so much fun. I have been with them since the start of the company." Judith March, as seen recently in the April 2013 issue of Southern Living magazine, is a clothing line that excels in the designing of modern clothes inspired by vintage bohemian styles. It was launched in January 2010, and Fantasia joined their team six months later.  She uses her sense of vintage style to work alongside the fashion designer to put together vintage color combinations, draw layouts for their fabric textiles and to conceptualize modern artwork for t-shirt designs. Her work at Judith March is also featured in their social media and website branding.
On top of her work at Judith March, Fantasia helps local businesses along the Emerald Coast brand their companies by designing logos, email designs and photography.  Some of these local businesses are Pelican Real Estates, Gemesis Expressions Jewelry on the Destin Harbor, Filanthropi Market and local artist Dannica Lowery's past two music albums. "I want to help build companies that are budding in the local community. I want to give them a great image of themselves so it is portrayed to their clients. In other words, I want to help them look big when they may still be small."
When asked why she wants to stay on the Emerald Coast she responds, "I love the area I live in and want to see it flourish. Being able to help local communities is a way to give back."  Fantasia believes that God has been directing her career steps from the beginning and believes He is the ultimate source of her inspiration.
Fantasia's online portfolio www.TasiaMade.com
Facebook at www.Facebook.com/TasiaMade
Judith March website www.JudithMarch.com
Dawson Fletcher
Actor

Dawson Fletcher, only thirteen years old, has been seriously acting for two years. "When I was young I wanted to be a singer. I sang in the choir at my church and received a lead role in a play that we were putting on. I realized that acting was what I wanted to do." 
Dawson began training with Darla Briganti Kain at Class Act Studio and Anne Marie Crouch with AMC Talent. There he took acting and theater classes as well as monologue and improv training. Most of early succes she credits to the training he received and the opportunities he was given through them.
One opportunity that really stands out was the chance to go to California to showcase for agents and managers.The process is competitive and exhausting, but in Dawson's case very rewarding. "They would give scenes to twenty people to practice and rehearse. We would then have to perform for the casting directors." Dawson's first attempt was unsuccessful. He completed the showcase, but received no calls of interest. While this is very common, it was at this point that Dawson's true commitment to his dream became evident. He began training even harder and went back for a second time to showcase. "The second time I auditioned I received interest from an agent who I admired and they wanted to sign me."
His first co-star role was as a character named "Justin" on the episode "The Contractual Obligation Implementation" of the television series, The Big Bang Theory. Soon after, he was cast as a guest-star on Good Luck Charlie. "I played Brice Jenkins who was the tough kid in school on Good Luck Charlie. When the main character accidentally punches me in the face, he becomes scared of me the rest of the episode." You also see Dawson in the upcoming movie, Ender's Game, which is said to be released in the fall of 2013.

His time is spent traveling back and forth from his home in Destin, Florida to California. "I get to come home often. Since January I have been in California, so it's usually that I am home for a few months at a time and California for months at a time." His work does not stop though when he comes home. Between school and spending time with his friends and playing sports with his family, he is busy taping audition roles and sending them off. While his time at home in busy nonetheless, it isn't the same as when he is in California. "Sometimes when I am in California I could have three auditions in a row. I have school and acting classes on top of that. It's hard and overwhelming sometimes, but I am always reminded daily that I am getting to live out my dream."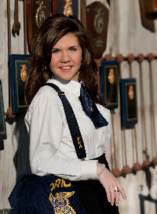 FFA, formerly known as Future Farmers of America, is a lead organization of our day that engages young people in exploring their talents in a variety of career fields to promote agricultural education. The organization is divided among local, state and national levels. In 1988, FFA changed its name to The National FFA Organization.
Ashley McLeod is well-known along the Emerald Coast and throughout the state of Florida for her current position as District 1 President, which covers seven counties. Ashley tells us, "As a leader in FFA, I host leadership conferences and travel throughout the state and different parts of the country to be an advocate for agriculture and agricultural education."
Ashley, a senior at Laurel Hill High school, has been involved with FFA since middle school. Growing up on a small cattle farm developed her interest in agriculture but it wasn't until she took an agriculture class in middle school that a passion was sparked.
Within FFA are Career Development and Leadership Events which help students to think, communicate and perform effectively. "These events help prepare you not only for a career in agriculture but for any career field that students go into after they graduate," she explains. Ashley has been competing in prepared public and extemporaneous public speaking since her involvement in FFA back in middle school. "When I was in eighth grade I competed in my first speech contest. You have to win three different levels to go to the state level, and in my first year of competing I advanced to the state level and placed in the top five of the state," said Ashley. Her early success only fueled her passion.
Ashley won the 2012 State Championship in prepared public speaking for Florida, and went off to compete at the national level as a semi finalist. She is also the winner of six different district championships in prepared public speaking. Recently she screened for the Florida FFA State office which will be decided in June of this year. "If I do get elected to State Office in June, I will have to take a year off of college so I can fully devote myself to Florida FFA and agricultural education as an ambassador. If I don't get elected or even after if I do, I plan to attend the University of Florida to major in Agricultural Communications with a minor in Political Science."
Ashley quotes her agriculture teacher, Jerry Gregory, when asked why she is so passionate about agriculture. "Without agriculture you would be naked, hungry and without a home." Her appreciation of the importance of agriculture and what farmers do on a day-to-day basis leads her to feel that it is her job to promote the agricultural industry and the people within it.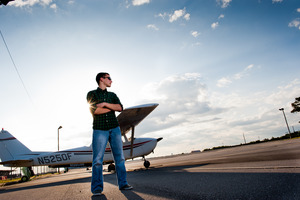 Kyle Aponte
Pilot

Most seniors in high school are primarily concerned with trying to graduate and get into college. Kyle Aponte, on the other hand, was concerned with not only graduating from Niceville High School and going to college but also with obtaining his pilot's license.
In addition to being a full-time high school student, for six months during his senior year Kyle was also a full-time flight student at Eglin Air Force Base. "Being a full-time flight student is something that takes a lot of time, commitment, and responsibility," explains Kyle.  Obtaining a pilot's license is not an easy feat. It requires forty hours of flight time, three flight exams from the Federal Aviation Administration (FAA) and a written exam. Kyle did all this on top of keeping up his GPA. He described his days as, "I would go to school at 6:00 am and would get done with flight school at 6:00 pm so I had a full day for 6 months."

"My dad is in the military so I have been around planes a lot. I lived in Italy before Florida and we lived on the airbase, so watching the jets go by was my inspiration for why I wanted to get my license," he explains. Since receiving his license he has logged over one hundred hours of flight time.

Kyle is currently finishing his freshman year at the University of North Dakota in Grand Forks, majoring in Air Traffic Control. "I chose this school for the highly recognized aerospace department and the great opportunities that would be available to me," explains Kyle.  "It takes a special person to do air traffic control. It's a lot of information and a lot of different people in the air at once. It can be really stressful but you just have to remain calm."

He also has a passion to teach young kids who are inspiring aviators. "I have always loved being around kids.  My instructor, Justin Mcelbaney, was so good with me when I was going through the program. He made my whole experience what it was and is why I am where I am."

Kyle still gets to fly about twice a month even while off at college. He loves taking friends and family up in the air who have never been before. "It is a privilege to have my license. Not many people have friends or family who fly little planes, so I like to be the one who gets to take them up."

On top of his college classes, Kyle has to log multiple take offs and landings every three months as well as take an FAA test every two years to prove he is still proficient at flying.

"I have been to different states and looking at them from the air is completely different from driving. It's a whole different aspect of what earth is like."

Subscribe to On the Coast Magazine's Free Newsletter for regular updates!
Community
emerging talent
ben white
kelsey anna
dawson fletcher
fantasia mcdaniel
henry connert
jonathan spears
ashley mcleod
mayjune