Is Your Life Balanced

04/30/2013 04:59PM ● Published by Nancy Babin
The Emerald Coast is a beautiful place to vacation and live.  But, in order to truly enjoy all the amenities and pleasures it has to offer, one must be healthy enough to experience it to the fullest.  "The World's Most Beautiful Beaches" can be lost if your life is so full and out of balance that you're unable to enjoy its beauty.  A walk on the white sand beach, watching a beautiful yellow-orange sunset, relaxing in your reclining beach chair while listening to the calming waves splashing on the shore, or catching a nap under the clear blue sky while listening to some music - all provide peace and solace along the Emerald Coast. But sadly, many people are unable to enjoy all the beaches have to offer because of busy schedules, over-planning of activities, and everyday pressures and stressors.  Establishing and maintaining a healthy balance will allow you to experience life on the Gulf Coast to its fullest.
In order to accomplish this, you must keep yourself healthy first.  Sound selfish?  Well, it's not.  A flight attendant will instruct you as a passenger to place the oxygen mask over your own face first before helping others.  Without taking care of yourself first, you will not be able to help others for very long.  If we exhaust ourselves giving away everything we have to our children, spouse, family and friends, we have nothing left to take care of ourselves or anyone else at that point.  Taking care of ourselves gives us the strength and ability to enjoy time with others. 
Healthy relationships and time spent with others can be fun, gratifying and fulfilling, but only if our lives are in balance.  A fun exercise to determine your healthiness is easy to complete.  The following circle is to be divided into seven areas of time you spend in your everyday life.  These areas consist of work, marriage or relationship, family, social, spiritual, recreational, and self time.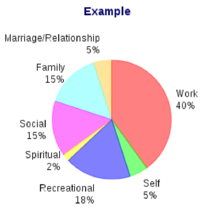 In reviewing this self-evaluation, you will have an idea of how balanced or imbalanced your life is currently and which areas may need attention.  If one area takes up an extreme amount of your time, it may be causing you undue stress and anxiety, negatively affecting other areas of your life. 
What steps must be taken in order to create a better balance in your life?  Sometimes in order to move towards a healthier balance, we may have to elicit the help of others in our support network.  We must ask ourselves some important questions.  Are we getting enough rest?  Exercise?  Time for ourselves?  Time with our children?  Time with our partner?  Are we willing to make an effort to correct the parts of our life that are out of balance?

Whether we are vacationing or a resident of this beautiful Emerald Coast, getting our life in balance and creating healthier relationships with others will allow us to experience all the amenities that this beautiful area has to offer.

This article is contributed by Lyle J. Sandquist, a licensed Marriage and Family Therapist who LIVES with his wife, Sherry, WORKS at Destin Counseling Center, and PLAYS tennis wherever a clay court can be found.
Subscribe to On the Coast Magazine's Free Newsletter for regular updates!
Today
,
Today
family
may/june 2013
balance
lyle j. sandquist
work
marriage or relationship
social
spiritual
recreational
self time